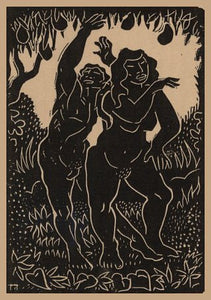 Garden Hula limited edition print
Regular price $100.00 Sale
Original block made 1982
Measurements: 10" x 16"
Paper: 70 lb. Artist's Kraft
Limited edition of 100
Notes : THIS IS ONE OF THE FEW PRINTS REMAINING FROM BEFORE THE ARTIST'S STUDIO AND HOME BURNT DOWN IN OCTOBER OF 2019. This particular print is the artist's rendition of a hula within the Garden of Eden.
Belsky's Aloha ʻĀina Collection are handprinted silk-block prints. Originally designed as blocks (carved from wood, linoleum or pvc sheets) that are smaller in size they are adjusted for the screen and printed by hand in limited editions, signed and pinky-printed by the artist. The subject matter of this collection is essentially related to the spirit of Aloha 'Āina -- Love of the Land. This is the philosophy of Polynesia, that it would do America much good to follow. "We Have much to be thankful for in Hawaii, and through my work I try to spread the appreciation for Nature and God's blessings."
All prints are on 60 or 70 lb. artists kraft paper with black ink. Special editions on white, off-white, tan or other colored paper may be possible.